Be a garden enthusiast
Welcome to The Gardeners of Central Lake County, Illinois. We are a group of gardening enthusiasts that meet once a month for community
with other gardeners and to be inspired by outstanding local speakers. Besides the monthly meetings we have yearly activities such as Plant Sale, Garden walk etc. The club has been in existence since 1959. We are affiliated with Gardeners of America and American Horticulture Society.
Join us any time. See our next gathering listed below or view our full calendar. Download a membership form. Guests are always welcome at our regular monthly member meetings.
For any information about our Garden Club contact: Cindy Julian
juliancindy@hotmail.com
847-772-2186 cell
Certify Your Property
A growing number of people manage their landscapes in ways that help keep the planet healthy. If you're among them, please visit, https://www.openlands.org/livability/lakecounty/caringforyourland/certify-your-property/
2023 MONTHLY MEMBER MEETINGS

This month's activity
March 13: Gardening for Native Pollinators By Brandie Dunn and Carol Elkins, Xerces Society Ambassadors
Future Activities
April 10: Why Plant Native Gardens? By Marilyn Fish from Monarchs, Milkweed, and More
May 8: Managing a Public Rose Garden During the Covid-19 Pandemic – Andy Plasz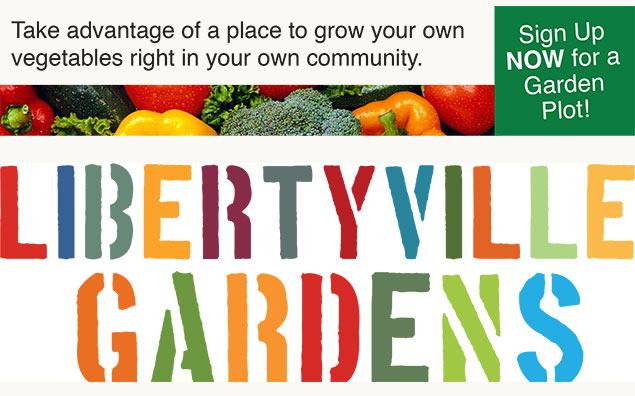 WOW!

All available garden plots have been rented for 2022! The gardens opened on May 18.

If you love the taste of a juicy, ripe, homegrown tomato and are in need of garden space to grow your own produce, then Libertyville Gardens is for you. You have the option to lease a 20'x20' or 20'x10' garden plot for the next growing season.

Community Gardens in August 2021!
Looking beautiful!

Great way to start your garden!